"There is nothing more satifying than seeing ink on skin."
Prestige Tatttoo & Blade offers one of the finest Tattoo, Piercing and Permanent Makeup experiences in Las Vegas, offering unparalleled customer service alongside tattoos and piercings done by some of the finest experts in their fields. We also offer a full line of merchandise and souvenirs to satisfy even the pickiest customers, as well as world-famous tattoo art you can purchase as well.
Custom Tattoos, Piercings
and Microblading
WIth a great skills and experience, our artists transform the body to a canvas and work their magic in color or black and white
Hey, I'm Stephanie. I am originally from San Diego, CA, but moved to Indiana when I was eleven. Art has always been a part of my life since I could hold a crayon in my chubby little hands. I went to Herron Art College for three years and in 2016 I started my tattoo career.
I worked at a small shop for four years and moved to Las Vegas the beginning of July 2020. There is rarely a tattoo that I don't like to do. Watercolor and black and grey are in the top five for sure, but I love working with all styles and themes.
Halloween, animals, and Disney are some of my favorite themes to work with as well. I look forward to meeting you and bringing your ideas to life.
Lawrence is originally from Houston Texas, he grew up in a neighborhood called Houston Heights. Lawrence  grew up around a number of  graffiti artist so graffiti art was a big inspiration for him.
He started his tattoo apprenticeship in 2006 at Space City in Houston for a year and then worked at all of the three shops by that owner in Houston and other shops including Anchors Away  and Outlaw Tattoos.
His hobbies are painting, music and studying fine arts and he went to Clarendon College in Texas for two years and went to the University of Houston downtown for one year.
He has now been tattooing for 14 years and really enjoys creating black and grey work.
Lawrence paints abstract impressionism and he started tattooing here in Las Vegas while traveling the West Coast in March 2020.
He now works at LV Tattoo in downtown Vegas and here at Prestige Tattoo & Blade.
And here he is creating his own magic.
Chris Tietjeans is a California native and he is originally from the city of Los Angeles. Over the past 10 years he has travelled back and forth between LA and Las Vegas, but he is currently setting roots in the Vegas area. He has over 20 years of tattoo experience, and favors American Traditional Tattooing as well as black and grey work. He is experienced in realism designs and script designs amongst other styles. He has worked all around the LA area including parts of Hollywood and Long Beach. He has trained with people from the Long Beach Pike. Chris is ready to start working on your customized piece and he looks forward to speaking with you about making your tattoo ideas a reality.
Ramon grew up in the Bay Area and began tattooing at the early age of 18, which means he has been tattooing already 24 yrs,
Here in Las Vegas he worked at Rock N Sik Ink Tattoo for 2 years before moving to Prestige, all the while maintaining a strong individual and faithful client list,
Ramon is very skilled in a variety of tattoo styles, including watercolor, black and grey, and medusas,
Pressed to choose any style in which he particularly excels Ramon would say black and grey and his work certainly reflects that,
But he is comfortable with all styles and has a great many years of experience and practice in all.
Adam was born in Barstow, CA.
I started  tattooing at 28 years old (meaning 11 yrs of tattooing thus far),  but I have been obsessed with body art all my life. I especially enjoy tattooing traditional and neo traditional, as well as comic book characters and darker style tattoos.
I've lived half my life in California and half my life in Las Vegas.
I love the atmosphere in Las Vegas especially here on Fremont St and all of the people that you have the opportunity to meet.
When I think about where I want to be 30 years from now the answer is very very simple, right here tattooing, doing what I love.
I love the busy pace at LV Tattoo as well as the quieter measured ambience at Prestige Tattoo and Blade where we often do more custom work, equally well.
I worked for many years to find a spot where I could feel comfortable and now I have found two at once,
Tattooing is my passion.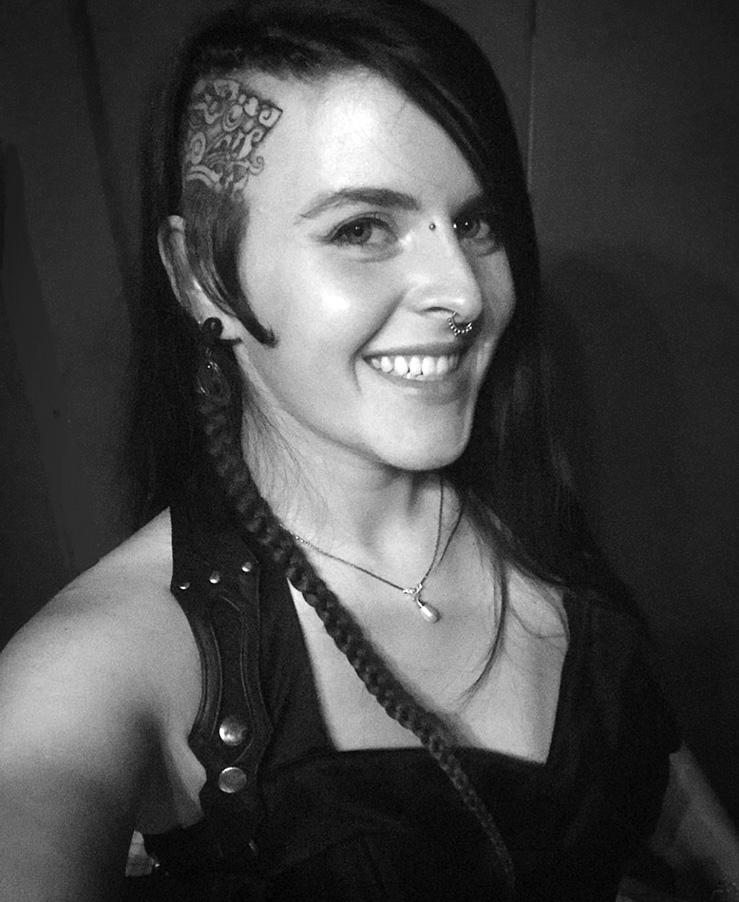 Originally from San Diego and living across the west coast, I was given the nick name "The Miachine" because of how hard I work.
With over a decade of professional body art experience, and managing two tattoo shops in both California and Nevada, I have built a wide breadth of style specialties over the years, including cover-ups, and am familiar with working with many types of skin for finding effective styles, placement, and design for a merging of longevity with the desired effect for your ink. I truly love my job and the work that I do, and I'm happy to help achieve your custom desired results!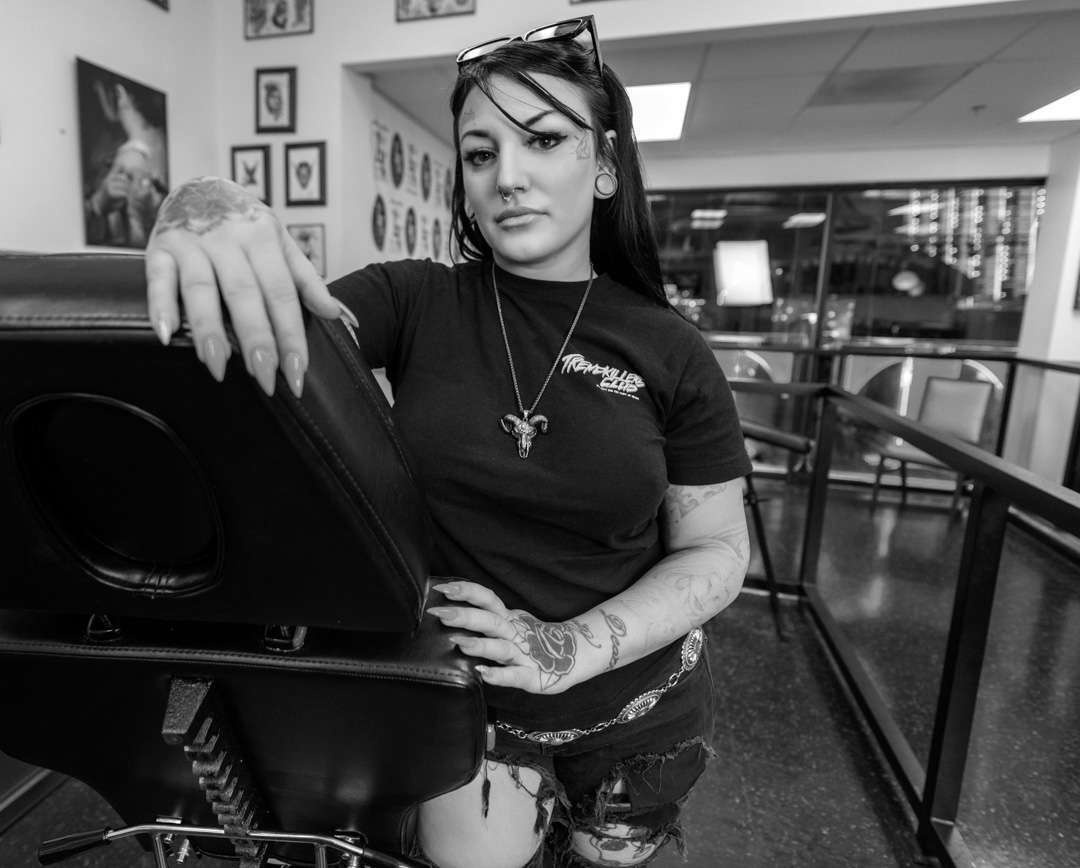 My name is Valeryia Sachko.  I was born in Belarus, a country near Russia, Poland and Ukraine.  I have been drawing since I was a small child.
In 2015 I started sketching tattoo ideas for my friends and finally in 2016 I ordered a tattoo machine kit and practiced on artificial skin, bananas and pig skin. I moved to the United States in 2017 and pursued my career as a tattoo artist in New York City. I spent two years in New York as a tattoo artist and then I moved to Las Vegas NV.
I've been tattooing 5 years and want to tattoo the rest of my life.  I want to continue learning and be able to present something new in this art.
Service is key to all customers who grace our beautiful studio.
We want to give you the best possible experience so that you will feel welcome, at ease and cherish your time here.
We do all kinds of tattoos for every occasion, custom designed to your specifications.

We do all kinds of tattoos for every occasion, custom designed to your specifications.
We do all kinds of tattoos for every occasion, custom designed to your specifications.
  Tattoo
Pricing
Because each tattoo is unique and every person's skin is different, we price tattoos on custom order.
Please come in to talk to one of our concierge ladies with your tattoo request and they will be happy to assist you in quoting you on your particular tattoo, as well as suggest the best artist for the job.
  Piercing
Pricing
Julie M.
Performer
I only have good things to say about Stephanie. This girl has skillz! I am blown away with the artwork on my arm and can't stop looking at it.

Christina P.
Marketing Manager
I had a a tattoo that with my ex-boyfriend's name that I wanted to change into something I felt like having on my body. Marcus did an amazing job covering it for me. Thank You!

Jeremy S.
VIP Host
I can't say enough about the sheer professionalism of Bill. My tattoo came out better than I could have hoped for and his years of experience definitely shows.

We look forward to servicing your every Tattoo, Piercing and Permanent Makeup need!
Welcome.
7581 W Lake Mead Blvd Suite 140,
Las Vegas, NV 89128, United States
Monday-Friday:          12 noon – 9pm
Saturday-Sunday:     12 noon – 9pm